Dear Biconomy global users,
please follow the tutorial below to download the Biconomy iOS app:
Method 1:Use your iPhone or iPad to change your region to United States
Open the Settings app.

Tap your name, then tap Media & Purchases.

Tap View Account. You might be asked to sign in.

Tap Country/Region.




Tap Change Country or Region.

Tap United States , then review the Terms & Conditions.

Tap Agree in the upper-right corner, then tap Agree again to confirm.

Select a payment method and enter your new payment information and billing address, then tap Next. You must enter a valid payment method for your new country or region.*
(If Apple ID has subscriptions and can't change the country, please use method 2 to download app)
Method 2:iOS download requires an account (not a personal account) provided in the app store (App Store) login tutorial, please follow the tutorial below, remember not to log in in the phone settings (there is a risk of being locked), the process does not need to receive verification codes and do not bind your own mobile phone!
Please read the tutorial carefully, you can only log in in the app store, remember not to log in in the Settings.
(Be careful not to bind your mobile phone number when logging in)
Step 1: Click on "App Store"
Step 2: Click on "Account"
Step 3: Scroll down to the bottom and sign out, then sign in to the account with below given Apple ID and password.
---
Apple ID 1:Yeguhuayan46755@hotmail.com----Pp112211
Apple ID 2:Huahansigan6969@hotmail.com----Pp112211
Step 4: Click on "Other option" in Apple ID security page. Don't bind your mobile number.
Step 5: Click on "Do not upgrade".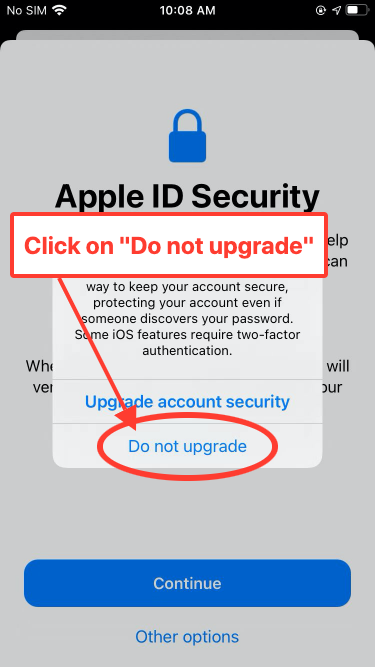 Step 6: Search and install Biconomy app
Step 7: Sign out in "App Store"
After installation, open "App Store" , click on "Account" and sign out in the bottom. Then sign in to your own account.
Then you can successfully use Biconomy app to start your trading anytime anywhere
---
If you have problem during the download process, please contact customer service: support@biconomy.com
Thank you for your support!
Biconomy Team